A small introduction:
Kristen Jaymes Stewart since her early years she was acting, in Los Angeles, California, where she was born. You might know her from Twilight, a movie with vampires and werewolves, which gave her so much fame. If you don't, well, where were you living? Under a rock? She evolved from an awkward teenage brunette, Isabella Swan, to a beautiful blonde stylish actress.
The first movie I saw with Kristen Stewart was 'Speak' a drama, which was released on 2004. God, I'm old.
It stars Kristen Stewart as Melinda Sordino, a high school freshman who practically stops talking after being raped by a senior student .
Since then she starred in many films, she won awards and she is a successful actress. She may be young but she has a special sense of style. A little tomboyish, a little rock and roll, and a little 'I don't care what you think of me'. I believe she is an inspiring idividual and I really don't get why everyone calls her acting weird or awkward. She looks chill and low key. Like, can you, person-judging-from-your-couch, do it better? Go ahead, do it. I dare ya.
And she smiles a lot actually. A LOT.
Okay, I got a liiiittle carried away but I want you to know why I chose her 🙂
Kristen Stewart in Chanel
Wearing a T-shirt with the logo of the The Pretenders are an English-American rock band, woolen jacket on top, lacey skirt and black tights with dots. Rock chic fashion everyone!
Kristen Steart at 69th Cannes Film Festival street style
Leather jacket in black color. dark sunglasses and locket on her neck, long black dress with stripes reaching down her knees and flats with details on.
At the airport, looking comfy and stylish, with baggy jeans, plain white T-shirt, chains with lockets on, rounded sunglasses and her bags on her hand.
Oh who doesn't love leather jackets? They are comfortable, you can wear it with almost everything you own and it makes you look (and feel) like a rock star. Not much accessories either, except for the lockets chains and sunglasses in brownish color. Caro pants aren't my style, but Kristen looks great in those. A silver color clutch with silver thick chain is a beautiful accessorie to match her outfit.
This light blonde color on her hair is gorgeous and i believe it matches her perfectly. The roots are darker in a very soft brunette color that makes it feel so natural.
Her beautiful greenish eyes are popping out with this smokey look, in black and grey colors and there is not much makeup on any other part on her face (her eyebrows!!!). Nude colors on lips are making this eye-makeup looking better and getting all the attention, right there!
Okay, white, white, white. She likes white tees. And these chains..
And who doesn't, right? Well I don't, I use black on every occassion. Literally every occassion, birthdays, partys, clubbing you name it.
And I LOVE her sunglasses! Still not much makeup in this picture, but she doesn't need it anyways, her face is clear and bright.
Get the look
Now in 2017, she has been in a relationship with Stella Maxwell for a while, and they definately look super cute together!She also cut her luscious locks, to shaved short hair and looks even better!
'I go outside, and I'm wearing a funky T-shirt and my hair is dirty, and people say, 'What's wrong with her? She needs to invest in a hairbrush.'
Kristen Stewart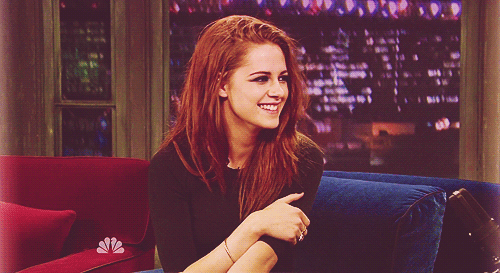 ♥Which celeb is your favorite?♥
GeorgiaT.
xoxo